ERC - PoC

Title: Making it happen - Scalable biphasic reactions using a nebulizer-driven continuous flow reactor


Acronym: NebuFlox


Our team has focused its energies of the last decade on proving the very significant advantages to using oxygen from the air, in its light-excited state, within organic synthesis. We have been able to show how simple and readily accessible start materials could be transformed into HIGH VALUE CHEMICALS (such as, compounds with pharmaceutical potential) through straightforward "one pot" operations. We have shown that the diversity of structures accessible using this chemistry is truly remarkable. Furthermore, this chemistry is highly sustainable; it represents a very efficient, benign and extremely low waste approach to the GREEN PRODUCTION OF SOUGHT AFTER CHEMICAL FRAMEWORKS. However, one problem prevailed. While it worked exceptionally well on a small research scale, its overall usefulness and its industrial relevance had been severely curtailed by scale-up issues, even when applying the latest continuous flow technologies. The need to achieve good light penetration in order to raise oxygen from its ground state to its excited state, combined with the poor solubility of oxygen in reaction solvents, seemed to castrate the potential of this chemistry to provide global solutions. We made a key breakthrough approximately two years ago with the realization that creating and projecting a cloud (using a nebulizer to make fine droplets) into a light filled chamber could be used to SOLVE ALL THESE PROBLEMS and could help us achieve large scale reactions. In this program we have taken this idea and begun to explore its potential. The result has been the DEVELOPMENT OF A ROBUST PROTOTYPE CONTINUOUS FLOW REACTOR which readily achieves productivities (the amount of product made per minute by the machine) in the region of 1.0 mmol/min. This figure is quite remarkable and means that the system has generated keen industrial interest (from small to very large companies). Extensive competitor analysis has shown that the system has significant advantages over other available technologies. From an engineering perspective the reactor set-up we have developed is simple which means the route to further scale-up and/or COMMERCIALIZATION OF THE APPARATUS IS UNENCUMBERED BY COMPLEXITY. Furthermore, the possibilities do not end here as it is obvious that this "nebulizer fix" is also be superbly suited to a range of other biphasic/aerosol reactions, some using light (photochemistry) others not, which we have begun to investigate. Our program has the support of pharmaceutical company AstraZeneca and our work on this program with the consultants from this company is expanding and will continue.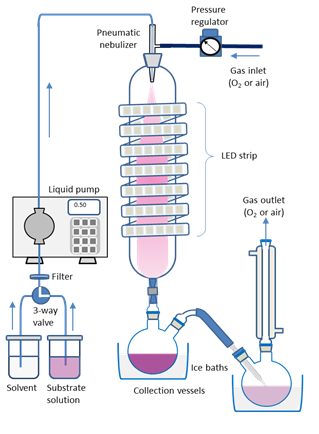 Figure 1. Schematic representation of NebPhotOX continuous flow reactor set-up. The vertical pyrex cylinder dimensions are 33 cm length and 6.7 cm diameter.
In summary, the reactor technology that we are continuing to develop is making LARGE SCALE & HIGHLY SUSTAINABLE BIPHASIC REACTIONS, for the production of a diverse array of HIGH VALUE CHEMICALS, COMMERCIALLY VIABLE. The PRODUCTION SOLUTION we are providing is notable not just for its OPERATIONAL AND ENGINEERING SIMPLICITY, but for the degree to which IT MEETS A WIDE RANGE OF SUSTAINABILITY CRITERIA (low cost, high efficiency, rapid increases in molecular complexity, structural diversity of products attainable, green solvents, a benign oxidant, atom-economy, low energy LED use etc.). It represents a NEAR IDEAL TECHNOLOGY FOR THE FUTURE and the fact that such innovation has been developed in an economically stressed region & research institution has been beneficial on very many economic and social levels.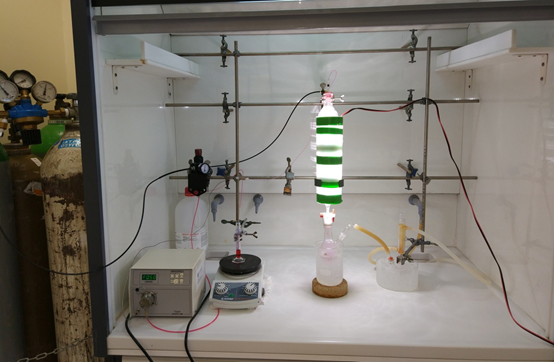 Figure 2. NebPhotOX in action.